SHOWTIME LIVE! featuring Aaron Caruso - Zoom Live Event - June 17, 2020 - Register now
Luncheon Shows , Zoom Live Event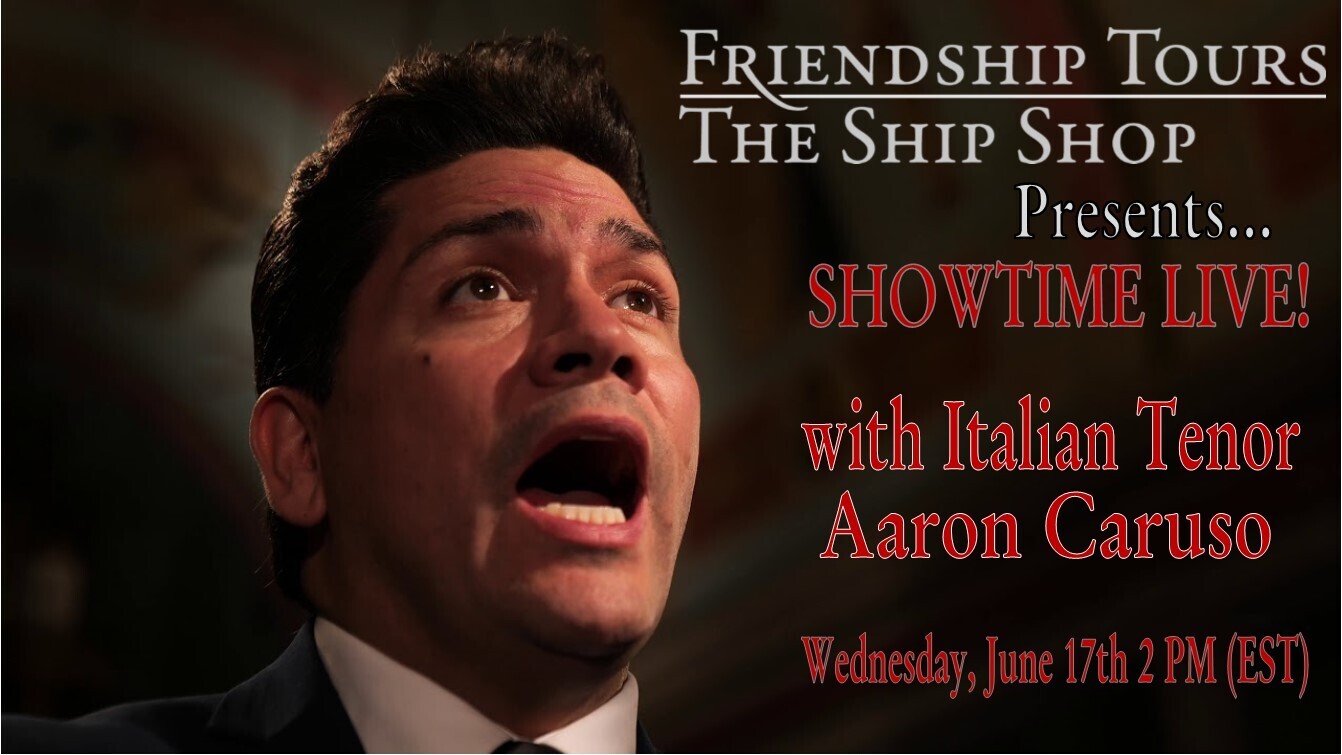 Register now for our first SHOWTIME LIVE! Zoom Event on Wednesday, June 17, 2020 at 2:00 pm featuring a Friendship Family favorite, Aaron Caruso. Aaron has appeared several times for Friendship Tours audiences, as part of the Sicilian Tenors and as a solo artist. His Italian heritage, outstanding tenor voice & charisma make a striking combination.
Our first SHOWTIME LIVE! Zoom event will be hosted by Brett Isaacson, Friendship Tours President and familiar face to many of you at our Luncheon Shows traditionally held throughout the year at various banquet facilities. Join us for this interactive Live Performance by Aaron Caruso using a simple Zoom Link. Registration in advance is required. Just click on the link and fill in your responses. You will receive an email confirming your registration with a Zoom Link to be used to join in on June 17 at 2:00 pm. SHOWTIME LIVE! will feature the wonderful music and stories of Aaron Caruso, Italian tenor extraordinaire!
This event is free to the public with advance registration and is graciously sponsored by The Log Cabin - Delaney's Market. Everyone who registers and attends will receive a coupon to use at a Delaney's Market location (Mass.) for TWO FREE INDIVIDUAL MEALS from the Delaney's Market Individual Meal - Take To Go Menu. Thank you to the Log Cabin - Delaney's Market for this amazingly generous sponsorship!


Enjoy a Video Message of Hope from Aaron Caruso
Aaron made this video for his Friendship Tours friends to spread well wishes and cheer during the Stay-At-Home orders.
Aaron Caruso has been performing on stage since the age of 6, and attended the world renowned "Interlochen Arts Academy" for high school. He earned his bachelor degree in Vocal Performance with an Italian Minor from the University of Michigan. He speaks four languages fluently, and can sing in seven including Russian, Latin and German. He studied Opera abroad in Italy, and in New York City, for 8 years. Aaron also specializes in Classic Neapolitan music. He has been part of the Sicilian Tenors group that brings together three marvelous tenor voices. Aaron Caruso combines his charm and light-hearted style with the beautiful music of Hollywood to Broadway to Italy with his operatic tenor voice.