SHOWTIME LIVE! featuring Michael D'Amore of The Capris - Zoom Live Event - July 21, 2020
Luncheon Shows , Zoom Live Event
Are you in need of a little LIVE music this summer? This is a special opportunity to spend an hour being entertained by a real musical talent - Michael D'Amore of The Capris. We are so excited to feature Michael in our 2nd SHOWTIME LIVE! series.
Register now for our second SHOWTIME LIVE! Zoom Event on Tuesday, July 21, 2020 at 2:00 pm featuring a Friendship Family favorite, Michael D'Amore. Michael first appeared at St. Clements Castle for Friendship Tours in 2018 and was scheduled to perform for us at Amarante's Sea Cliff in September of this year. That show has been postponed until 2021 but here's your chance to see and hear him through our Showtime Live! series.

After an overwhelming response from the audience, we wanted to bring Michael back and perform on our "virtual stage." As lead singer of The Capris, Michael will entertain with great hits like "There's a Moon Out Tonight" and the "Morse Code of Love". Enjoy a wide variety of melodies from Doo-Wop to Jersey Boys - Classic Italian to Inspirational. It's a Showtime Live event you won't want to miss!

Our second SHOWTIME LIVE! Zoom event will be hosted by Brett Isaacson, Friendship Tours President and familiar face to many of you at our Luncheon Shows traditionally held throughout the year at various banquet facilities. Join us for this interactive Live Performance by Michael D'Amore using a simple Zoom Link.
Registration in advance is required. We are excited to bring these amazing performers to you LIVE through Zoom. Please join us complimentary OR if you would like to help offset the cost of these performers there is a suggested fee of $10 per person (no obligation). Once you register, your confirmation will include instructions on how to get your Zoom meeting link. You will receive an email confirming your registration with a Zoom Link to be used to join in on July 21 at 2:00 pm.

Win a FREE Friendship Tours Fan Club Membership!
One lucky member of the audience will be selected to win a FREE Friendship Tours Fan Club Membership ($100 Value) including a gift of our Friendship Tours Carry-On Travel Bag!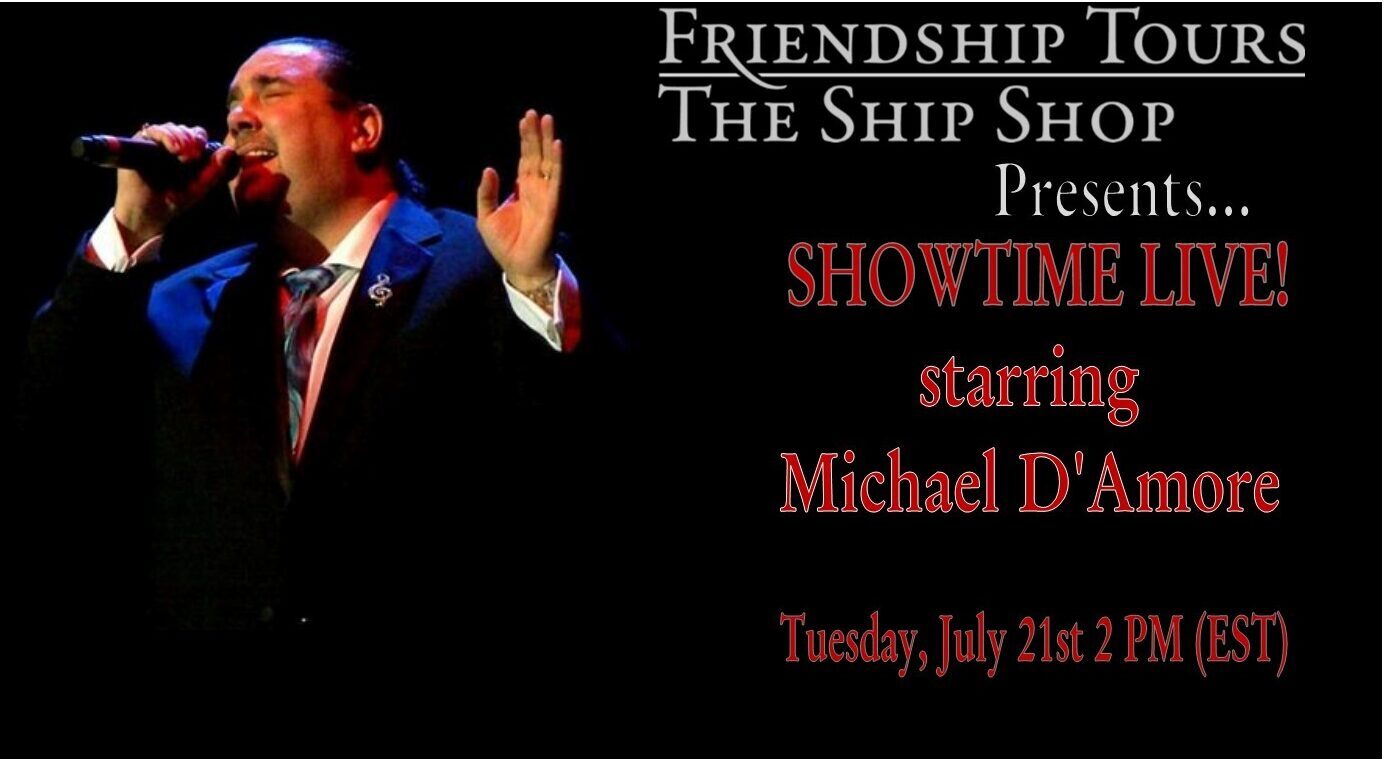 Questions? Need help registering? Please contact Brenda@friendshiptours.net
Getting To Know Michael D'Amore
Singer and songwriter Michael D'Amore was born in upstate N.Y. and raised and resided in New Jersey for most of his life. Coming from a musical family, it wasn't a surprise that his passion would eventually become his livelihood.
For almost 35 years, Michael has been a professional entertainer based out of the New York metropolitan area. Having performed in several genres, Michael eventually found himself drawn to the harmony of the Classic R & B and Doo Wop sounds.
Michael currently performs as a one man show showcasing the very best of the 50's, 60's and 70's. He is also a member of The Capris and proud to sing lead on the their hits "There's A Moon Out Tonight" and "Morse Code Of Love" for music fans around the world.
In recent years he has opened for and shared the stage with groups such as The Stylistics, Lou Christie, John Cafferty, The Loving Spoonful, The Grass Roots, Kenny Vance and the Planotones and so many groups he has admired over the years.
In 2012, his CD In Harmony was met with great success. "This is a labor of love and such a great source of pride." In Harmony is special because Michael played and sang every part on this CD which was something he always wanted to do.
Michael continues to strive for perfection in his craft and will always measure his level of success by the number of smiles in his audiences.