Welcome to the Friendship Tours Fan Club!
Announcement , Zoom Live Event , Learning
A Fan Club! We know you are out there! Those of you who have been traveling with us for years. Those of you who love to travel and enjoy the comforts of group travel. Those of you who have made lifetime friends or travel companions as a result of participating in a Friendship Tours trip. Those of you who have reached out to us during these difficult past months to show your support and express how much our trips mean to you. You are all part of our cherished Friendship Family. Family is a word that we do not take lightly. Family members support each other through the good and the not so good. Our Friendship Family Fan Club is our way to stay connected with all of you - our Friendship Family - in ways that go beyond the trips. Friendship Tours is so much More Than Tours.

Our Fan Club is also a way for you to show your support of Friendship Tours/The Ship Shop. When you show your support as a Fan Club member, you are doing your part to protect the future of our Friendship Family – one that enriches and transforms many peoples' lives through travel, friendships, and most importantly, connections.

Become a founding member of The Friendship Tours Fan Club. As a Friendship Family Fan you will have access to many benefits. Yes – there will be tangible items such as gifts and discounts. But more importantly, Fan Club membership is a way to stay social with our staff, tour directors, and most importantly each other! This is your chance to reconnect with old friends and even make new ones through online events where we will be able to see & talk with each other. Hold on tight as we will take you on a "virtual tour" to discover new places or maybe revisit one of your past favorites. Take advantage of our educational series which will include knowledge and useful tidbits of all things travel!

We are all missing the friendships and memories that have been formed through all our adventures. Until the time is right for you to travel again, we've decided that we are going to bring our friendship and adventures to you, right in your homes!



Benefits of Becoming a Fan:
Complimentary Friendship Tours Carry-On Travel Bag upon sign-up
Bonus signature on your 2021 Loyalty Program Card
10% discount on our brand-new Web Store – filled with wonderful travel apparel (promo code will be provided upon enrollment)
Bonus on new gift certificate purchases – Receive an extra $20 per $100 spent on gift certificates (example: Spend $100 and receive a $120 Gift Certificate – maximum of $500 spent)
$25 On Board Credit – applied to any 2021 Ship Shop cruise reservation
Concierge cruise / fly tour planning – 30-45 mins private session (by appointment) with one of our specialists
One "Virtual" Tour - Live, interactive tour hosted by a Tour Director or expert presented through Zoom
Live, interactive virtual session for Fan Club Members exclusively - 1 per month. Examples: Educational How-To's, Travel Hints, Cruise Nights, Game/Social Nights. Meet each other and hang out with Friendship Tours staff and Tour Directors in fun ways through Zoom meetings. Live, interactive sessions are for Fan Club members only. Some of the sessions may be recorded and posted on our social media platforms at a later date.
Automatic entry into a monthly raffle for a prize from one of our favorite destinations
Other surprise gifts and special recognition for Fan Club Members throughout the membership period.
Amazing Offer! Founding Fan Club members will receive a free Carry-On Travel bag, a $30 value.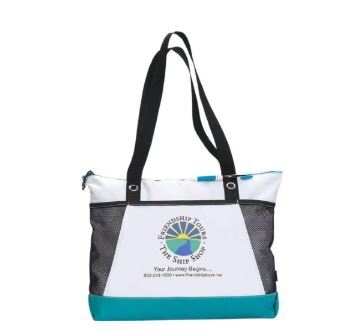 Fan Club Details – Time Sensitive!
The Friendship Tours Fan Club will run through Dec 31, 2020. Fan Club membership is at the inclusive rate of $100 per person. Add another person at the same address for only $50 more. Join now to begin enjoying all the benefits as soon as possible. Membership is non-refundable, non-transferable.

Turn your Hold into Gold – Do you already have credit held on account with us? Turn your money on Hold into Gold. Fill out the enrollment form below and use your hold funds to join the Fan Club membership!


Two Ways To Join:
If you want to join with a credit card, click the 'Join Using Credit Card' button.
If you want to join using credit held on your account with Friendship Tours or by check, click the 'Join Using Account Credit' button and you will be directed to our Enrollment Form.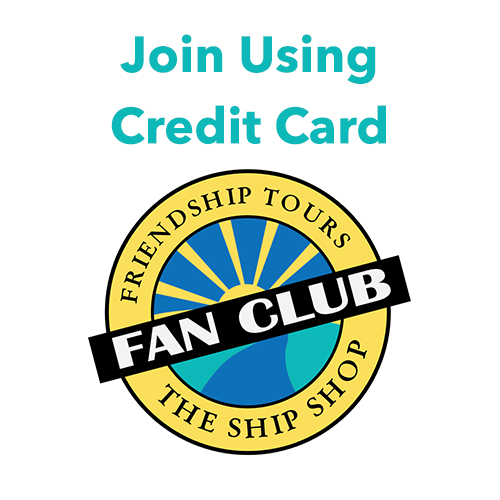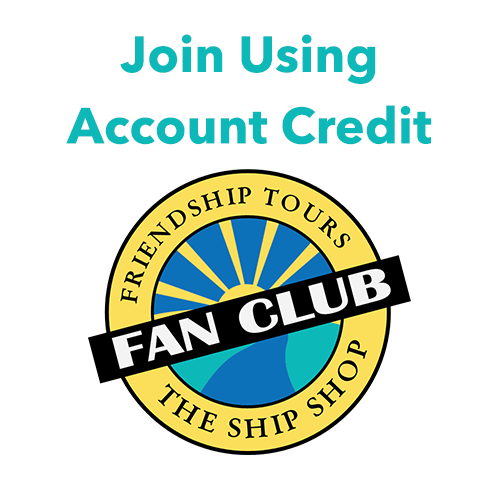 Become A Fan Club member and support all that you cherish about the Friendship Family.
Your Journey Begins Again with Friendship Tours.