Wish You Were Here...Ogunquit, ME Click Thru to View Series
Overnight Tours , Armchair Travelers
Wish You Were Here! Since we can't be there in person, we've put together this "Armchair Travelers" series so you can enjoy these favorite destinations from the comfort of your home. Click Thru to View is a fun and easy way to feel like you escaped on an armchair vacation! Simply click on any of the blue links for more detailed information or click on the videos.

Enjoy our second in the series: Ogunquit, Maine.
Day 1 - Our Journey to the Coast of Maine
You can't get theyah from heyah! Well, maybe not this summer, but that can't stop us from virtually exploring "the beautiful place by the sea", Ogunquit, ME. Undoubtedly one of America's best coastal small towns, Ogunquit has evolved from a fishing village to a bustling tourist destination. In the late 1920's the Ogunquit Art Association began organizing art education and exhibitions. It's no wonder Maine and its beauty has served as muse to many artists. One of the best known is Andrew Wyeth, a regionalist style painter who summered in Cushing, ME. His most recognized painting is Christina's World. It depicts his neighbor Christina Olson sprawled on a dry field facing her home. Christina, crippled from an undiagnosed disease, and the Olson Farm where Wyeth spent many summers painting, served as inspiration for nearly 300 drawings, watercolors and tempera paintings. A fictional tale of their story can be read in A Piece of the World by Christina Baker Kline.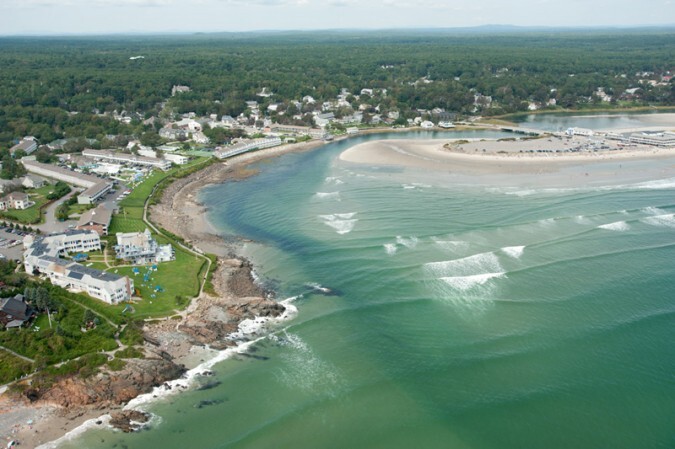 Hop aboard our couch coach and take a trip to Vacationland! First stop in our tour to Southern Maine is for lunch at the landmark Weathervane Seafood Restaurant.
Who can resist a cup of chowdah loaded with fresh clams! If you're a lobster lover, you've come to the right place. But you don't need to go to Maine to enjoy the sweet meat of lobster dunked in melted butter! If cooking a whole lobster isn't up your alley, try just the lobster tail! The rocky coast of Maine is responsible for the abundance of lobsters and lighthouses. Both are synonymous with the state and you won't be limited to just one of either on this trip to Maine!
The centrally located Meadowmere Resort will be home base for our two nights in Maine. You can relax on your balcony or patio, take a swim in the pool or pop in the Pub for a drink before we head over to Jonathan's for a welcome dinner.
Day 2 - Explore Kennebunkport
A guided tour of Kennebunkport starts our second day in Maine. A small (population 3,374) coastal town, Kennebunkport is known for its beaches. It's also famous for being the summer home for the President George HW Bush family. The home, located on Walker's Point, was first built by President Bush's maternal grandfather George Herbert Walker and over the years, both 41 and 43 have hosted world leaders at this "summer whitehouse". Mikhail Gorbachev, Margaret Thatcher, Vladimir Putin and Nicolas Sarkozy are amongst the dignitaries to enjoy this small coastal town as a guest at the Bush compound.
The guided tour ends at Dock Square, the hub of Kennebunkport. This colorful jumble of onetime fishing shacks now house galleries, restaurants and shops. Pop into Daytrip Society and browse the unique mix of gifts, home decor, accessories and locally crafted treasures.
Now that you've burnt off those blueberry pancakes from breakfast it's time to enjoy lunch. The popular gathering place Alisson's is located in the heart of Dock Square and is a favorite to locals and tourists alike. But if you're looking for something a little more casual, head over to the bridge where you'll find the The Clam Shack. With it's walk up counter, seafood loaded menu and casual outdoor seating, The Clam Shack is all you'd expect from a classic New England seafood shack. The Clam Shack is also popular with striped bass who have turned the pilings beneath the shack into a popular hangout. These smart stripers know a good French fry and delight diners with a show as they chase after the bites dropped over the rail.
Our second day in Maine ends with a classic lobster bake. You'll enjoy great food, entertainment and music all while wearing a bib at Foster's Clambakes. Someone will be on hand to help you crack open and eat your Maine Lobster.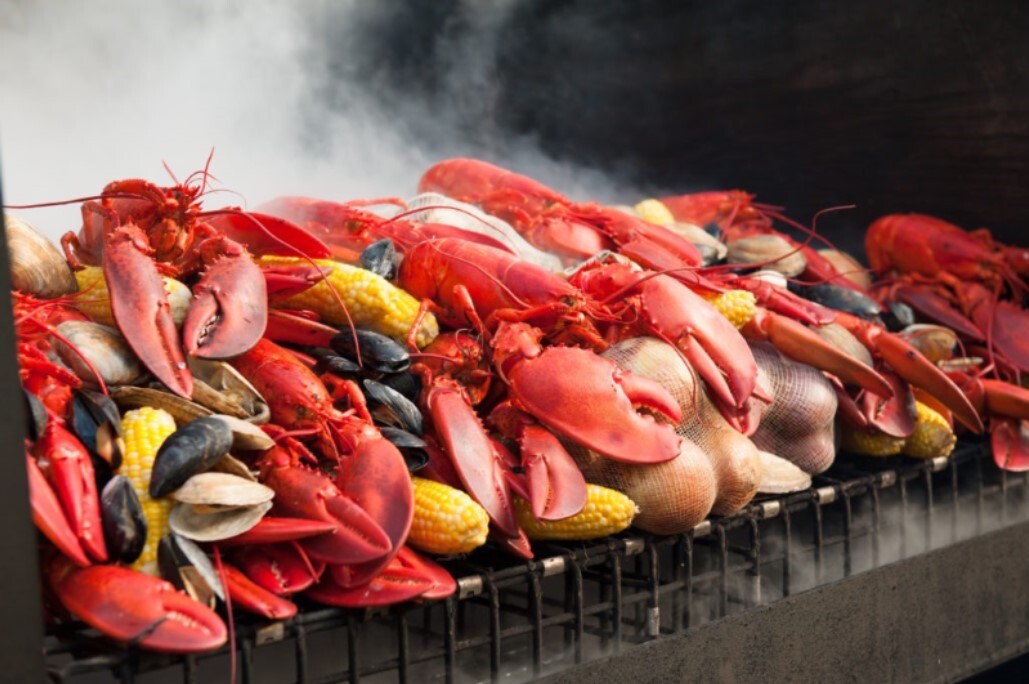 Day 3 - The Nubble Lighthouse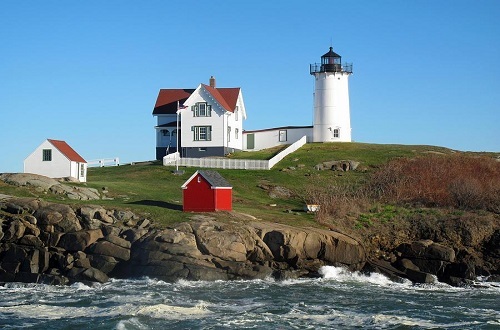 Nubble Lighthouse has been a beacon on the York coastline since 1879. When you set eyes on Nubble, you may have a sense of de ja vu. It is so familiar as it's served as an inspiration for artists of all medium. The graphic artist Alan Claude has used the glory of Maine as a model for his bold poster style works, Nubble Lighthouse included. The Nubble Lighthouse cruise will get you out on the water to view this landmark from the sea. The cruise also offers unsurpassed views of York's elegant homes and rocky coast.

Back on land and time to explore the seaside village of Perkins Cove. There are shops and restaurants aplenty in the cedar shake covered buildings of this turn of the century fishing community. Or take some time to stretch your legs with a walk along the shoreline. Sprawling a little over a mile from Perkins Cove to the beach at Ogunquit is the paved footpath Marginal Way. There are park benches along the path for you to sit and reflect on the scenic views of the rocky Maine coast and your time in Southern Maine.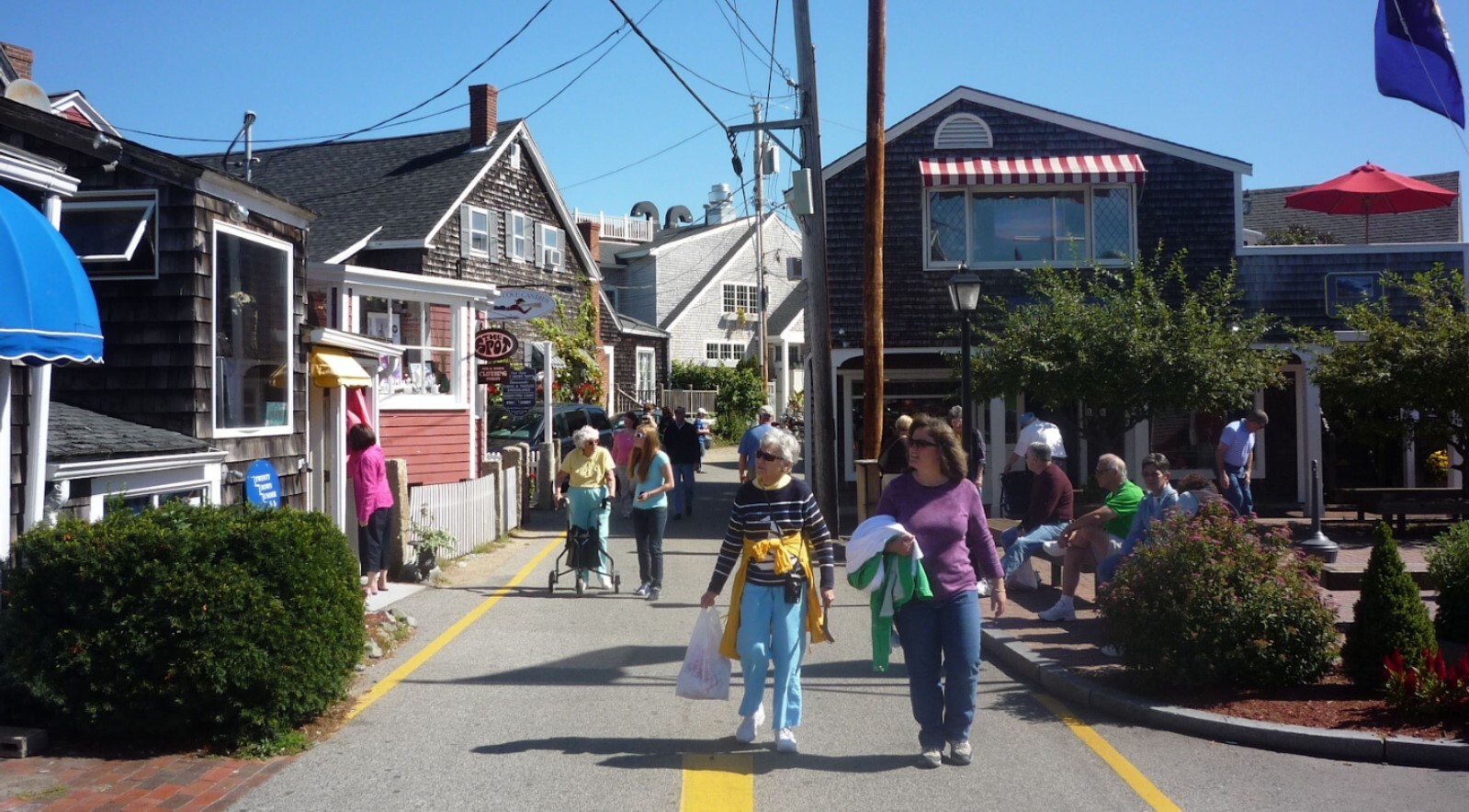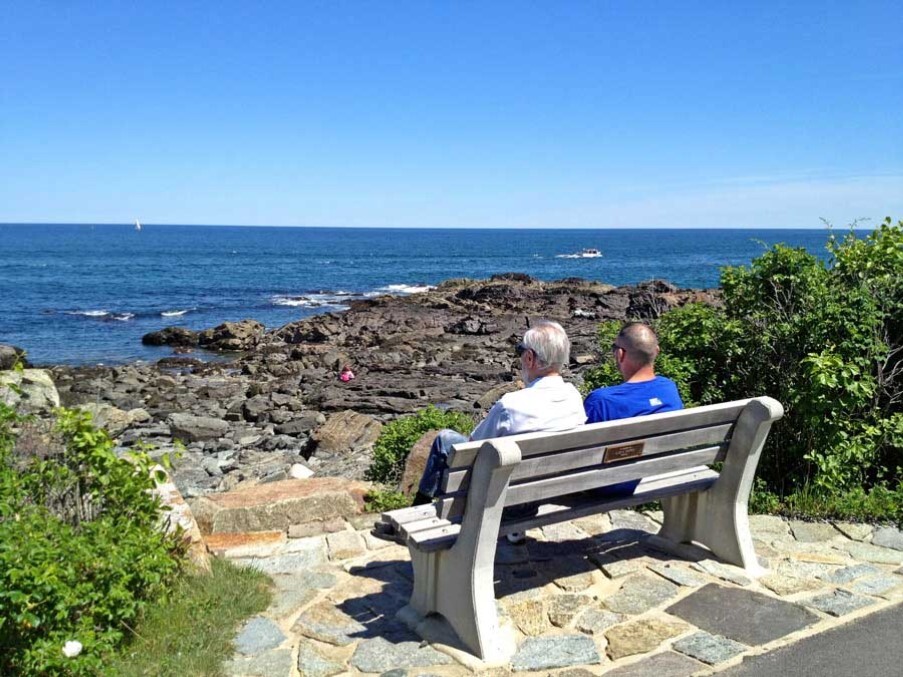 Until we can travel there together, we hope you enjoyed your armchair tour of Ogunquit, ME!